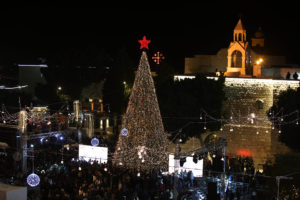 information for journalists planning to take part in Christmas&Tree Lighting Celebration
ENG
Announcement
Christmas &Tree Lighting Special Press Card 2019
In cooperation with Bethlehem Municipality, the Palestinian Journalists Syndicate, the Ministry of Telecommunication and partners, the Ministry of Information (MINFO) calls upon local, Arab and foreign media outlets and journalists interested in covering the 2019 Christmas tree lightning festival- to take place on Nov. 30. 2019; and Christmas Celebrations to obtain MINFO Christmas Special Press Card, under the following terms:
– MINFO accredited Palestinian and foreign journalists working for Arab and foreign media outlets shall bring a copy of their valid MINFO Press card, a copy of their passport first page and proof verifying last entry to the country, recent personal photo, and a letter of accreditation duly addressed to The Press office, Ministry of Information, Palestine (max. of 3 cards shall be issued for each institution).
– Palestinian Media outlets and journalists accredited by The Palestinian Journalists Syndicate shall provide us a letter of assignment issued by a licensed media outlet of current employment, a copy of the valid Palestinian Journalists Syndicate Press Card and a recent personal photo. (max. of 2 cards shall be given for each institution).
– Interested journalists are encouraged to fill in the MINFO Christmas Special Press Card form. The form can be electronically retrieved from the MINFO official website www.minfo.ps, alternatively, journalists are advised to personally contact and/or visit MINFO Press office.
– SNG vehicles must obtain the Ministry of Telecommunication Satellite Broadcasting license; SNG vehicles will not be allowed to enter the Church of Nativity Manger Square unless the license is obtained.
– In principle, each media outlet shall be given a maximum of four cards. Any media crews officially accredited for covering the 2019 Christmas celebrations shall be given all facilitations required upon assignment.
– PBC shall have the exclusive coverage of the 2019 Christmas celebrations, for more information, feel free to contact the Engineering Dept. PBC.
– MINFO Christmas Special Press Card will be issued at the MINFO main office, Ramallah until Dec.20, 2019. Under exceptions and in special cases, the special press card can be arranged to be obtained from the MINFO Christmas Media Center, Peace Center, Ground floor, Church of Nativity Manger Square, Bethlehem
– For more information, please feel free to contact Media Production Director General Mr. Maher Awawdeh, Mobile: 0599889859 for foreign media issues or for all other issues, Press Office Director Mr. Bahaa Al Awawdeh Mobile: 0594594983, Office Tel: Ramallah: 02254042.
For Arab and local media: Abdalhdi Atari, Mobile: 0599252998.
For more information on Bethlehm Christmas Media Center services, feel free to call Mr. Fayq Murshid: Office Tel, 022765115, Mobile: 0595626065 and/or Ms. Luna Juha Mobile: 0569294178.
E-mail: [email protected]